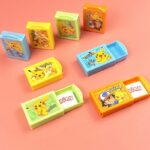 Pokémon magic box for kids
Pokémon magic box for kids
14,90 $
In stock
Do you have a child at home who can\'t get enough of Pokémon? If so, we\'ve got the perfect solution for you!
The Pokémon Magic Box for kids is a must-have for all fans of the famous cartoon.
Supplied with an eraser, this magical Pikachu box comes in several colors, but you can\'t choose, so the surprise is which color your box will be.
The Pokémon Magic Box is a fun toy for kids. It consists of a large plastic box with a transparent lid. Inside the box is a small Pikachu figurine. Ideal for children aged 5 and over.
Additional information
| | |
| --- | --- |
| Color | Multicolored |
| Matériau | PVC |
| Size | 5.5cm |