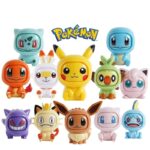 Toy Pokémon figurines variable face
Toy Pokémon figurines variable face
19,90 $
Do you have a little Pokémon fan at home? If so, we\'ve got the perfect gift for him or her: Pokémon toy figurines with variable faces!
These quality figurines are not only adorable, but also perfect for your Pokémon-loving little one. Thanks to these toys, your child will be able to have even more fun playing with his favorite characters.
The Pokémon Variable Face Figure is a toy that lets kids transform the face of their favorite Pokémon. They can choose from a variety of expressions and poses, allowing them to create their own story. The figurines are made from high-quality materials and are highly durable, making them ideal for active children. They are also easy to clean and require no assembly.
Additional information
Matériau

:

No selection

PVC