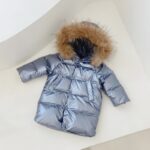 Waterproof and dirt-repellent fur jacket for children
Waterproof and dirt-repellent fur jacket for children
74,90 $
Children are often very active and tend to get their clothes dirty. However, with this waterproof and dirt-repellent fur down jacket for kids, your child can play all day without having to worry about stains
The down jacket is made from soft, warm fur that will keep your child snug and warm during those outdoor activities.
What\'s more, the jacket is waterproof, which will prevent water or snow from penetrating and wetting your child\'s clothes.
This waterproof, dirt-repellent fur down jacket for kids is perfect for little adventurers! It\'s made from high-quality materials, making it very comfortable to wear.
The down jacket is also waterproof and stain-resistant, making it ideal for days of outdoor play. Kids will love wearing this comfortable and practical down jacket, and you can be sure they\'ll be warm and dry all day long.
Additional information
Matériau

:

No selection

Nylon

Remplissage

:

No selection

Duvet de canard blanc