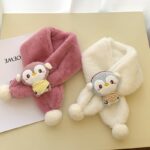 Soft scarf made of adorable, thick plush for children
Soft scarf made of adorable, thick plush for children
24,90 $
Discover our adorable soft plush scarf for children.
This plush scarf is soft and thick, perfect for kids!
It\'s ultra-soft and super-comfortable, and its plush design is so cute. The scarf is long and wide, making it perfect for wrapping children in a cocoon of warmth and softness.
This scarf is made of soft, thick plush, making it very comfortable to wear. It\'s also highly absorbent, making it ideal for toddlers. It\'s easy to put on and take off, making it very practical to use.
Additional information
Size

:

No selection

One size

Matériau

:

No selection

Polyester/Coton