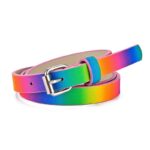 Leather belt with colorful square buckle
Leather belt with colorful square buckle
14,90 $
Our leather belt with colorful square buckle is a unique and timeless piece for your little munchkin!
Made from top-quality leather, it\'s designed to last for years, the square buckle adds an elegant and original touch to the belt, the bright, bold color gives an extra touch of style and personality to your look.
It\'s perfect for completing your child\'s look and adding a touch of sophistication to the look.
Additional information
Size

:

No selection

One size

Matériau

:

No selection

PU