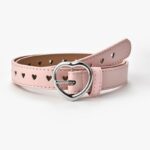 Faux leather belt with heart-shaped eyelet for children
Faux leather belt with heart-shaped eyelet for children
14,90 $
Discover our incredible faux leather belt with heart-shaped eyelet for kids, a must-have for their wardrobe.
Its classic, timeless color will blend perfectly with any look, its heart-shaped eyelet gives it a feminine, romantic air that little girls are sure to love, and the metal buckle is highly resistant and easy to use.
It\'s also adjustable to suit your child\'s size. Children\'s faux leather belt, a must-have to complete your child\'s look.
Additional information
Matériau

:

No selection

PU

Largeur de ceinture

:

No selection

2.3cm