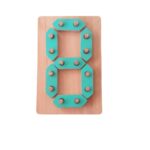 Wooden number board game for babies
Wooden number board game for babies
49,90 $
In stock
Just before starting kindergarten, your child can get a head start on his classmates with our number game. After a while of playing with it, no number will be able to resist him. There\'s nothing better than learning while having fun.
The wooden baby number board is the perfect educational toy for toddlers. This colorful wooden board is designed to help children learn numbers and colors in a fun and playful way.
Children can have fun counting, recognizing numbers and matching colors. The board also features an erasable slate on which children can draw or write the numbers they\'ve learned.
Additional information
| | |
| --- | --- |
| Recommande L'âge | 3 -7 ans |
| Matériau | Bois |