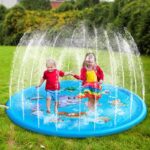 Water jet mat for children
Water jet mat for children
39,90 $ – 59,90 $
The warm weather is back and you\'d like to give your child a treat? Give him or her this magnificent children\'s water jet mat, ideal for cooling off in the middle of summer! Quick and easy to install, simply inflate and connect to a water supply, and the jets will magically shoot out of the mat!
Perfect for hot summer days, your child will love it, and will even be able to invite friends over!
The children\'s water jet mat is a fun product that will keep your child entertained for hours. It\'s easy to install and use, and it\'s also very durable, making it ideal for children. The children\'s water-jet mat is made from high-quality PVC, making it extremely durable. It\'s also easy to clean and maintain, making it perfect for children.
Additional information
Matériau

:

No selection

PVC

Taille

:

No selection

100cm /170cm