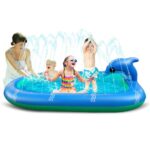 Inflatable water spray boat
Inflatable water spray boat
59,90 $ – 79,90 $
Summer\'s here, and with it the heat? Then give your child the chance to have fun and cool off at the same time with our superb inflatable water spray boat! Not only can it be used as a real swimming pool, but you can also connect a water supply and watch jets shoot out of the boat for even more coolness!
It\'s sure to become this summer\'s haven and your children\'s favorite summer plaything!
The water-spraying inflatable boat is a fun and refreshing toy for children in hot weather. It\'s easy to inflate and deflate, and transports easily in a beach bag or suitcase. Children can enjoy spraying others with the water cannon for hours, making the inflatable water spray boat perfect for vacations, picnics, days at the beach or even in your own garden.
Additional information
Matériau

:

No selection

PVC