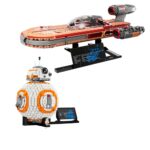 Star Wars miniature building set
Star Wars miniature building set
115,90 $ – 119,90 $
Looking for a great gift that\'s original and constructive for your little munchkin? Then look no further than our Star Wars figurine building set.
With lots of different pieces and figurines, you\'ll love playing with your child, and it\'s sure to bring back memories of the Star Wars movie.
Star Wars figures are a very popular building set. Children love the characters and stories associated with this franchise. These figurines are made from high-quality materials and are extremely durable.
They can be easily assembled and disassembled, ideal for children who like to build and rebuild again and again. Star Wars figures are compatible with other construction sets, allowing children to create their own scenes and stories. These figures are a great way for kids to have fun and develop their imagination.
Additional information
Color

:

No selection

White, Orange

Matériau

:

No selection

Plastique