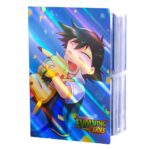 Pokémon 3D graphic album holder
Pokémon 3D graphic album holder
19,90 $
Do you have a Pokémon card collector in your life?
If so, he\'ll love this original, high-quality 3D Pokémon graphic album holder! It holds up to 240 cards, making it the perfect storage solution for those rare and precious cards.
The durable PVC material protects the cards from wear and tear. And your child will be delighted to see his favorite Pokémon characters on the album holder.
This graphic album is the ideal solution for organizing and displaying your favorite Pokémon cards! It features an elegant 3D design with an image of Pikachu on the front, and can hold up to 60 cards. The pages are made of transparent plastic for optimum card protection.
Additional information
Size

:

No selection

19cm

Matériau

:

No selection

PVC