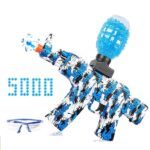 Orbeez gun with blue beads for kids
Orbeez gun with blue beads for kids
74,90 $
Discover our incredible orbeez gun with blue marbles for kids is the perfect toy for little action lovers.
It\'s easy to use and offers kids hours of fun and entertainment, the gun features a special barrel that shoots colorful orbeez marbles at impressive speed. Kids can have fun aiming and shooting marbles into targets, baskets or boxes. The ergonomic, lightweight handle enables children to hold the gun firmly and securely.
What\'s more, the gun comes with a 5000-pack of blue marbles, so kids can play for hours without having to buy extra. It\'s the ideal toy for kids who like to embark on exciting adventures and secret missions.
Additional information
Color

:

No selection

Blue, Red, Green

Matériau

:

No selection

Plastique