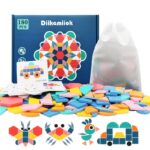 Wooden puzzle Montessori games to learn shapes for children 180 pcs
Wooden puzzle Montessori games to learn shapes for children 180 pcs
34,90 $ – 39,90 $
This wooden puzzle Montessori games to learn shapes for children 180 pcs is perfect for developing your child\'s skills.
It\'s made up of 180 colorful and varied pieces that will stimulate their imagination and creativity, the bright colors and impressive variety of shapes, sizes and textures will help improve hand-eye coordination and learn to recognize colors and shapes.
This game is designed to encourage independent learning and problem-solving, making it an excellent tool to help your child develop and grow.
Additional information
Color

:

No selection

Multicolored

Matériau

:

No selection

Bois

Style de puzzle

:

No selection

3D Puzzle