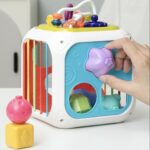 Montessori cube to develop babies\' senses
Montessori cube to develop babies\' senses
29,90 $
This Montessori cube-shaped learning toy is ideal for babies who are beginning to explore and discover the world. It\'s a colorful cube, perfect for encouraging imagination and fine motor skills. This toy includes objects of different shapes and entertaining textures. Each object is placed on one of the cube\'s faces with its own sound, stimulating sight, touch and hearing.
Let your child experiment with all aspects of the cube, and develop their thinking and senses. A perfect cognitive exploration for babies discovering the world around them.
This toy also helps your toddler initiate physical activity, thanks to its stable, flat shape, which he can easily hold with a firm grip as he stands up and begins his first steps towards acquired independence!
Additional information
| | |
| --- | --- |
| Sexe | Unisexe |
| Âge | 0 à 3 ans |