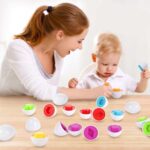 Montessori children\'s game eggs to learn shapes and colors
Montessori children\'s game eggs to learn shapes and colors
16,90 $
This Montessori egg game for kids is a fun way to learn about shapes and colors, and will stimulate your little one\'s curiosity!
It consists of 6 different-colored eggs, each containing a different shape. It\'s up to them to match them up and try to close the eggs correctly. Thanks to the educational virtues of Montessori play, it will offer little ones a playful basis for learning while stimulating their creativity, creating a sense of satisfaction when they find the right solution and learning to recognize certain shapes as well as developing their patience.
Made from sturdy plastic, this product is sure to stand up to the repeated knocks and bumps our little ones will experience during use! What\'s more, it\'s ergonomically sized for young toddlers.
Additional information
| | |
| --- | --- |
| Model | 6 eggs |
| Matière | Plastique |
| Âge | Dès 1 an |