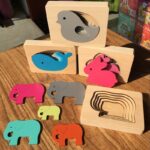 Educational wooden puzzle toy for children
Educational wooden puzzle toy for children
29,90 $
Let yourself and your child be seduced by our range of educational toys. You\'ll be faced with a difficult choice: which of these puzzles will you choose? Different animals are available, for a fun moment of sharing between you and your child.
The educational wooden puzzle toy for children is a top-quality product designed to help children develop their fine motor skills, hand-eye coordination and problem-solving skills. Made from natural, durable and non-toxic wood, this puzzle is perfectly suited to children of all ages.
The puzzle consists of several colorful wooden pieces that need to be assembled to form a complete picture.
Additional information
Recommande L'âge

:

No selection

3-7 ans

Matériau

:

No selection

Bois