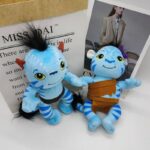 Disney Avatar plush for kids
Disney Avatar plush for kids
39,90 $
Our Disney Avatar plush toy is perfect for kids who love the movie.
It\'s very soft and cuddly, made from high-quality materials. The plush measures 25 cm and is designed to be a loyal companion for your child. Realistic details make this plush even more appealing. The bright colors and facial expressions are a cute reminder of the adorable characters in the film.
This plush is a great way to share the love and magic of the Disney film Avatar with your child. It will be a precious playmate and an unforgettable keepsake for your child.
Additional information
Size

:

No selection

25cm

Remplissage

:

No selection

Coton PP

Matériau

:

No selection

Coton