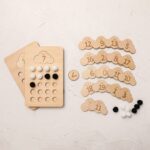 Educational wooden number puzzle for children
Educational wooden number puzzle for children
24,90 $
In stock
Discover a simple, fun way to teach your child to count with this wooden number board. Combining a puzzle aspect for fun, numbers in written and physical form for easy counting, it\'s a real moment of complicity with your child during this learning process. You\'ll love helping your child discover and guess numbers. You\'ll be amazed at how quickly they\'ll pick up this new information.
The Wooden Number Boards for Children educational puzzle is an ideal toy for learning numbers, and children can learn to count, add and subtract by playing with this puzzle.
Suitable for children aged 3 and over.
Additional information
| | |
| --- | --- |
| Materiau | Bois |
| Peinture | Aucune |