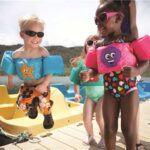 Children\'s swimming vest
Children\'s swimming vest
22,90 $
Ideal for introducing your child to swimming at an early age, this swimming vest offers your child safe swimming. Suitable for children from 10 to 30kg, it helps your child to float and keep his balance in the water.
Ideal for outings to the pool, beach or water park, your child will gain confidence in the water and be able to have fun in complete freedom!
The children\'s swimming vest is an essential accessory for little swimmers. It keeps the body warm and comfortable in the water, while providing excellent protection against the sun.
The elastic, water-resistant fabric ensures optimum comfort and freedom of movement. Adjustable shoulder straps ensure a snug fit. Reinforced seams guarantee long life. This swimming vest is available in several bright, attractive colors.
Additional information
Âge

:

No selection

2 à 6 ans (14-25kg)