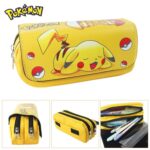 Pokémon double-compartment case
Pokémon double-compartment case
19,90 $
Is your child an undisputed Pokémon fan and are you looking for a pencil case for back-to-school? Then our double-compartment Pokémon kit is just the thing!
Every child\'s favorite cartoon, this fantastic, inter-generational universe is a dream for young and old alike… So what could be better than a kit reflecting your little one\'s favorite world to accompany him throughout the year? Treat your little one to this magnificent back-to-school kit!
This Pokémon pencil case is perfect for fans of the series! It has two spacious compartments, ideal for storing all your school supplies. What\'s more, it\'s decorated with various characters and logos from the series, making it even more attractive!
Additional information
Type de version

:

No selection

Première édition

Certification

:

No selection

CE

Sexe

:

No selection

Unisexe