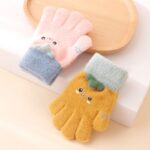 Warm cashmere winter gloves for children
Warm cashmere winter gloves for children
14,90 $
Discover our incredible warm cashmere winter gloves for kids, made from soft, warm cashmere fabric.
Made from high quality cashmere, making them extremely comfortable and warm, they are very soft to the touch, making them ideal for children.
The gloves are available in a wide range of colors, so your child can choose.
Warm cashmere winter gloves for kids are made from high-quality 100% cashmere fabric, making them soft and comfortable to the touch. They\'re perfect for keeping hands warm on long winter days. The gloves also feature an elasticated wrist for easy on and off.
Additional information
Matériau

:

No selection

Cachemire

Taille

:

No selection

12x8cm