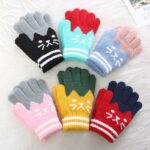 Cute cat cartoon winter gloves for kids
Cute cat cartoon winter gloves for kids
14,90 $
Discover our sublime winter gloves with cute cat cartoon for kids, they\'re perfect for cold days!
Made from soft, warm fabric, they feature a cute cat cartoon on the front.
They\'re made from polyester and cotton for a perfect fit. Kids will love wearing these cute gloves all winter long!
These gloves are perfect for kids who love cats! They\'re soft and comfortable, and the cute cat cartoon is sure to put a smile on your child\'s face. The gloves are also very practical, with a velcro fastening that makes them easy to put on and take off. They\'re perfect for those cold days when you want to keep your child snug and warm.
Additional information
Matériau

:

No selection

Coton/Polyester

Taille

:

No selection

13.5cm