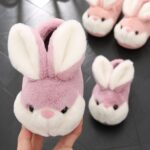 Children\'s bunny slippers
Children\'s bunny slippers
24,90 $
What could be better than bunny booties for comfort at home? Your child will fall in love with his new big-eared companions!
Lapinou slippers are the softest, fluffiest, most comfortable slippers you\'ll ever wear! They\'re made from high-quality materials and are fully lined with ultra-soft rabbit fur for maximum comfort and warmth. Lapinou slippers are perfect for any occasion, whether you\'re relaxing at home or heading out for some fresh air.
They\'re also easy to put on and take off, making them perfect for the elderly or people with difficulty bending down.
Additional information
Matériau de Semelle Extérieure

:

No selection

Caoutchouc

Size

:

No selection

14, 15, 16.5, 18, 19, 20, 36-37, 38-39