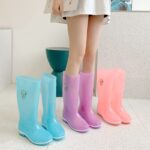 Transparent rubber rain boots
Transparent rubber rain boots
70,90 $
Discover our incredible selection of clear rubber rain boots! Available in a variety of fun colors, these boots are perfect for your child. Thanks to our waterproof design, he can be sure his feet will stay dry no matter what.
Clear rubber rain boots are made from a soft, waterproof material that keeps feet dry and warm in all circumstances. They\'re ideal for outdoor activities like hiking, camping or even just gardening.
Their sleek, elegant design blends perfectly with any style of clothing. Clear rubber rain boots are an excellent choice for anyone looking for comfortable, practical footwear.
Additional information
Matériel de semelle

:

No selection

EVA