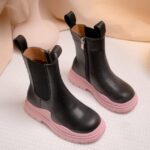 High boots with thick, waterproof sole for little girls
High boots with thick, waterproof sole for little girls
74,90 $
Discover these magnificent waterproof boots with thick soles for little girls, so perfect for winter!
Made from high-quality materials for the ultimate comfort of your little girl, they have a thick, waterproof sole, making them very comfortable and warm.
The boots are made of waterproof fabric, making them easy to clean, and your daughter will love wearing them all winter long.
Little girls will love these high boots with their thick, waterproof sole! They\'re perfect for winter, with their elegant design and absolute comfort. The boots have a lace-up closure, making them easy to put on and take off. The sole is thick and waterproof, making them ideal for outdoor play in snow or mud. The boots are available in a range of colors, so little girls can choose the ones they like best.
Additional information
Matériau

:

No selection

Microfibre/Caoutchouc