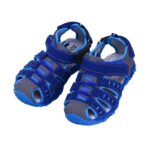 Boys\' beach shoe in soft, comfortable sandal style
Boys\' beach shoe in soft, comfortable sandal style
52,90 $
These beach shoes for boys are perfect for the summer season.
They are designed with soft, breathable materials, making them very comfortable to wear. Non-slip rubber soles provide optimum grip on wet and sandy surfaces.
Adjustable straps enable a customized fit, and the classic sandal design adds a touch of style to your look. These shoes are ideal for every day at the beach or pool. You\'ll love the originality of these pairs of children\'s shoes specially designed for the beach.
Additional information
Matériau

:

No selection

Polyester

Saison

:

No selection

Été