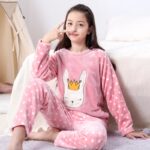 Warm fleece pyjamas with rabbit motif for children
Warm fleece pyjamas with rabbit motif for children
34,90 $
Discover these warm, bunny-patterned fleece pyjamas for kids. They\'re cozy and warm, perfect for your child who loves to play outside in the colder months and loves to arrive home to his warm little pyjamas waiting for him.
The top is made of soft, warm fleece with an adorable bunny motif on the front, while the bottom is made of soft, comfortable cotton with small dots.
Perfect pajamas for winter, after a long, cold day at school.
These fleece pajamas feature a long-sleeved top with round collar and snap closure, and long pants with elastic waistband. The top features a cute bunny motif on the front, while the pants are plain. These pajamas are made from soft, warm fleece fabric, perfect for cold winter nights.
Additional information
Matériau

:

No selection

Coton/Polyester

Type de tissu

:

No selection

Flanelle