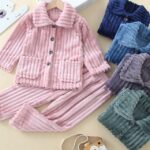 Soft and warm fleece pyjamas for children
Soft and warm fleece pyjamas for children
29,90 $
Our incredible soft and warm children\'s fleece pyjamas are ideal for cold nights.
They\'re made from soft, comfortable fleece fabric, with a button fastening for easy dressing and undressing.
These pajamas are super practical and comfortable for your child after a long, cold day at school.
The soft, warm children\'s fleece pyjamas are made from 100% polyester fabric. It\'s soft to the touch and very comfortable to wear. These pajamas are ideal for children who need an extra layer of warmth when they sleep. They are available in a variety of sizes to fit most children.
Additional information
Matériau

:

No selection

Polyester

Type de tissu

:

No selection

Flanelle