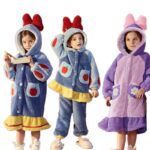 Soft and warm Disney fleece pajama set for children
Soft and warm Disney fleece pajama set for children
49,90 $
Discover our soft and warm Disney fleece pajama set for kids, perfect for this winter.
The hooded jacket, pants and dress are made from soft, comfortable fleece fabric, with fun Disney character details on the front in a range of colors.
The sleeves and bottom of the pants are elasticated for a perfect fit and optimum comfort. This set is perfect for long winter nights and chilly mornings, and kids will love wearing their favorite Disney characters.
This Disney fleece pajama set for kids is a must-have for all fans of the famous mouse! The long-sleeved top is adorned with a pretty Mickey Mouse print, while the pants feature an allover pattern of little hearts. The fleece fabric is ultra-soft and warm, perfect for chilly nights.
Additional information
Matériau

:

No selection

Coton

Type de tissu

:

No selection

Flanelle