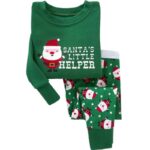 Santa Claus pyjamas for children
Santa Claus pyjamas for children
24,90 $
Discover our sublime Santa Claus pyjamas for kids, so perfect for the festive season.
It\'s made from a soft, comfortable fabric that makes it ideal for a peaceful night\'s sleep. The Santa Claus motif printed on the front is full of bright, cheerful colors, adding to the festive atmosphere.
These Christmas pyjamas are a great gift for little boys and girls, who love the holidays, especially the magic that is Christmas!
Additional information
Color

:

No selection

Green

Matériau

:

No selection

Coton