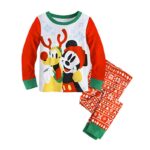 Mickey Christmas pyjamas for children
Mickey Christmas pyjamas for children
29,90 $
Discover our incredible Mickey patterned Christmas pyjamas for kids, perfect for the festive season.
Made from soft, comfortable cotton, they\'re designed to give your child a sense of well-being, with the loose fit and round neckline allowing them to feel comfortable and move freely. Long sleeves and elasticated legs guarantee freedom of movement.
What\'s more, these pyjamas feature a Mickey print that will delight little Disney fans. Available in different sizes, give your child these Mickey-patterned Christmas pyjamas for cozy, comfortable nights.
Additional information
Matériau

:

No selection

Coton