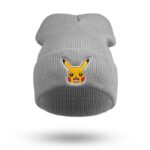 Pokémon knitted hat for children
Pokémon knitted hat for children
17,90 $
Discover our incredible knitted Pokémon motif beanie for kids.
All kids love Pokémon, whether in games, cartoons or clothes. That\'s why we\'ve come up with a new knitted Pokémon hat that\'s just right for your child.
This beanie is made from high-quality, super-soft and delicate material.
This beanie is perfect for little Pokémon fans! The beanie is made of soft, hand-knitted wool, with a pretty Pikachu motif on the front. It\'s perfect for keeping little heads warm all winter long.
Additional information
Taille

:

No selection

28x19cm

Matériau

:

No selection

Flanelle