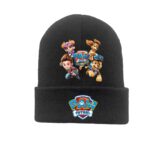 Pat Patrol knitted wool hat for children
Pat Patrol knitted wool hat for children
16,90 $
Discover this adorable Pat Patrol knitted wool hat for kids, perfect for your child.
This beanie is made from high-quality cotton and wool, the perfect combination for this winter, a beanie with a Patrouille motif your child will be delighted to have.
Patrouille knitted wool hat for children. The hat is made of wool, and is soft and warm. It\'s knitted with a pretty patrol paw on the front. Machine washable.
The Patrol knitted wool beanie is perfect for children who love the TV series. This beanie is made of wool, making it very soft and comfortable to wear. It\'s also very warm, ideal for cold days. The beanie is embellished with the Patroller logo, making it even more fun to wear. Kids will love wearing this cute, warm beanie all winter long.
Additional information
Color

:

No selection

Blue, Yellow, Black, Pink

Matériau

:

No selection

Laine/Coton

Age range

:

No selection

4 – 12years