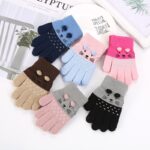 Cute knitted cat gloves for kids
Cute knitted cat gloves for kids
14,90 $
Check out our cute knitted cat gloves for kids, they\'re perfect for this winter.
These cute knitted cat gloves are made from high-quality materials, are soft and warm and have an adorable knitted cat head on top.
Kids will love wearing these feline gloves wherever they go this winter!
These cute cat gloves are perfect for kids! They\'re knitted with a soft, warm yarn, making them comfortable to wear. The gloves are adorned with cat ears and cat-shaped buttons, making them even cuter. They\'re available in a variety of colors, so choose the one you like best!
Additional information
Matériau

:

No selection

Coton

Size

:

No selection

14cm