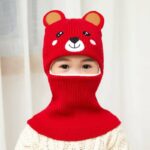 Colorful teddy bear hood for boys
Colorful teddy bear hood for boys
19,90 $
This colorful teddy bear balaclava is perfect for cold and windy days.
It\'s designed to give your child maximum protection against the cold and wind. The hood is soft and lightweight, making it very comfortable to wear. It features a cute, colorful teddy bear that will add a touch of fun to any outfit. The material used is durable and breathable, keeping your child warm and dry. The hood is adjustable to fit your child\'s head and protect it from the elements.
Reinforced seams ensure long life. The hood is easy to care for and can be machine-washed. Your child will be fashionable and well protected thanks to this adorable, colorful teddy bear balaclava!
Additional information
Matériau

:

No selection

Acrylique