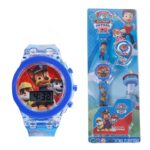 Pat Patrol quartz watch for kids
Pat Patrol quartz watch for kids
14,90 $
In stock
The Patrol quartz watch for kids is an essential accessory for all fans of the famous animated series.
This watch is specially designed for children, offering superior quality and a fun, colorful design that\'s sure to appeal to the youngest. This watch is equipped with a reliable and precise quartz movement, guaranteeing accurate and constant time measurement.
The soft, comfortable silicone strap is perfectly suited to children\'s wrists and is decorated with Patrol motifs, including favorite characters. This watch is the ideal gift for children who love Patrol and need a reliable watch to help them learn to tell the time.