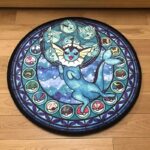 Pokémon blue carpet for children
Pokémon blue carpet for children
34,90 $ – 104,90 $
If your little one is a Pokémon fan, he\'ll love this blue carpet! It\'s perfect for playing, napping or just lounging around the house. The soft, durable material is easy to clean and will stand up to wear and tear. Plus, the bright colors and Pokémon design will brighten up any room. Give your child the gift of comfort and fun with this blue Pokemon mat.
This blue Pokemon mat is perfect for kids! It\'s soft and comfortable, and it\'s adorned with their favorite characters. Kids will love playing on this mat!
The Blue Pokémon mat is an ideal product for children. It\'s made from high-quality fabric and is very soft to the touch. It\'s also easy to clean and maintain. This mat is perfect for children who like to play with their favorite Pokémon. Kids will love playing on this mat, and they\'ll be able to play on it for hours without getting bored.
Additional information
Matière

:

No selection

Polyester