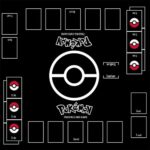 Pokemon card game mat, black
Pokemon card game mat, black
65,90 $
Looking for the perfect place to play your Pokemon card game? Look no further than the Pokemon Black Card Game Mat! This mat is designed specifically for playing the Pokemon black card game, and is the perfect size for casual and competitive play.
The mat is made from high-quality, durable and easy-to-clean materials, so you can keep it looking like new for years. It\'s also lightweight and portable, so you can take it with you wherever you go. And it comes with an integrated storage bag, so you can keep all your cards and accessories organized in one place.
The Pokemon Black Card Game Mat is the ultimate accessory for any Pokemon fan. Get yours today and start playing the black card game in style!