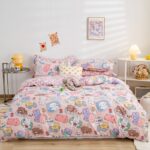 Cute bear quilt for children
Cute bear quilt for children
49,90 $ – 64,90 $
Our cute bear comforter for kids is the perfect choice for parents looking to create a cozy, comfortable bedroom for their little one.
This bedding set includes a comforter cover and pillowcase, all adorned with an adorable bear motif. Made from high-quality materials, this bedding set is soft to the touch and offers optimum comfort for a good night\'s sleep.
The comforter cover and pillowcase feature a practical zipper for easy installation and removal of bed linen. The bear motif is not only cute, but also timeless, meaning this bedding set can be used for years without ever losing its charm.
Additional information
Color

:

No selection

Pink

Matériau

:

No selection

Polyester

Dimensions

:

No selection

Taie d'oreiller : 48x74cm