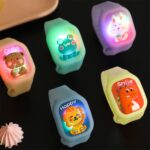 Luminous mosquito repellent bracelet for children with animal motifs
Luminous mosquito repellent bracelet for children with animal motifs
19,90 $
📣  OFFRE SPÉCIALE : 2 + 1 OFFERT sur toute la catégorie BIJOUX ENFANTS !
* L'offre est valable dès lors que vous ajoutez 3 bijoux à votre panier, le moins cher des 3 sera Gratuit
Protect your little one from mosquitoes with our luminous mosquito repellent bracelet for kids! Infused with essential oils, it immediately repels mosquitoes and other insects, making it the perfect way to protect your child from mosquitoes the natural way.
What\'s more, its fun animal and dinosaur motifs will amuse your child, and when he taps on it, it will light up and flash!
The luminous mosquito repellent bracelet for kids with animal motifs is a practical and fun accessory to protect children from mosquitoes and other biting insects. The bracelet features an LED that lights up automatically in the dark and flashes to attract insects. Children will love wearing this colorful bracelet adorned with attractive animal motifs.
Additional information
Matériau

:

No selection

Plastique + Huiles essentiels

Âge recommandé

:

No selection

0-12+

Type de répulsif

:

No selection

Anti-moustique