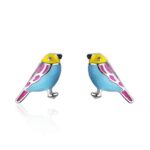 Little blue bird earrings for girls
Little blue bird earrings for girls
19,90 $
📣  OFFRE SPÉCIALE : 2 + 1 OFFERT sur toute la catégorie BIJOUX ENFANTS !
* L'offre est valable dès lors que vous ajoutez 3 bijoux à votre panier, le moins cher des 3 sera Gratuit
These lovely earrings are perfect for little girls who love fashion and style. They feature little blue birds that add a cute, whimsical look to any outfit. The bright, cheerful colors of these earrings are sure to delight your little girl. The simple, lightweight design is very comfortable to wear and doesn\'t feel heavy on the ears. The size of the birds is small enough to suit younger children, while the quality of the materials used guarantees long life. Give your little girl these pretty earrings and she\'ll be delighted to wear them to complement her favorite outfits.