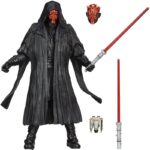 Star Wars action figures for kids
Star Wars action figures for kids
49,90 $
If your child, like you, is a big fan of the Star Wars world, then these incredible Star Wars action figures for kids are for you.
Made from high-quality PVC materials for long-lasting durability.
Perfect for creating adventures at home with these figurines.
Star Wars action figures for kids are the perfect toys for little fans of the saga. The figures are in 1/18 scale and represent the saga\'s main characters, such as Luke Skywalker, Leia Organa, Han Solo, Chewbacca, Obi-Wan Kenobi and Darth Vader. The figures are made of hard plastic and meticulously hand-painted. They come with removable accessories and a base for ideal presentation.
Additional information
Matériau

:

No selection

Plastique

Size

:

No selection

17cm