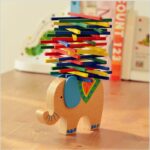 Set of balancing blocks for children
Set of balancing blocks for children
19,90 $
The hardest choice will be choosing the animal for your child, either the elephant or the camel. Let yourself be seduced by our wooden children\'s balance game, the ideal gift for your child\'s learning.
The game consists of 8 wooden blocks in different shapes and colors. The blocks are stacked on top of each other to create balanced structures. The game develops hand-eye coordination, concentration and fine motor skills. The blocks can also be used to learn colors and shapes.
Your child will love this wonderful balancing game, ideal for all little ones.
Additional information
Recommande L'âge

:

No selection

3-7 ans

Matériau

:

No selection

Bois

Thème

:

No selection

Animal