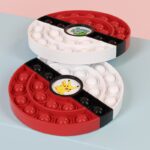 Pop-it Pokémon- Anti-stress toy for children
Pop-it Pokémon- Anti-stress toy for children
7,90 $
Give your child a pop-it decorated with their favorite cartoon: Pokémons!
It\'s THE ultra-trendy TOY that\'s all the rage in playgrounds right now…
Thanks to this toy, your child will be busier and more relaxed, but above all, he\'ll be proud to show it off to his friends, because until now, Pokémon pop-it toys have been very rare, just like Pokémons!
The Pokémon Pop-it is an anti-stress toy for children. It\'s made from soft, resistant materials, making it perfect for little hands. The toy consists of an air-filled rubber balloon and a plastic ring. When you press down on the ball, it produces a characteristic noise that soothes nerves and tension. Children will love playing with this cute and fun toy, while developing their coordination and fine motor skills.
📣 SPECIAL OFFER: The third one is FREE with the code POKEMON1!
Additional information
Sexe

:

No selection

Unisexe

Version

:

No selection

Première édition

Matériau

:

No selection

Silicone