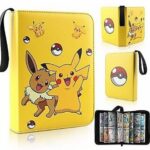 Pokémon card album for kids
Pokémon card album for kids
44,90 $
If you\'re looking for a great gift for your child, we\'ve got just the thing with this Pokémon card album for kids!
It\'s super cute and perfect for storing cards properly. It holds up to 200 cards, and there are several different Pokémon styles to choose from. What\'s more, it\'s practical to take with you.
If your child is a Pokémon fan, don\'t miss out on this card album!
This product is a Pokémon card album for kids. Children can learn all about the different Pokémon and their characteristics.
Additional information
Color

:

No selection

Multicolored

Matériau

:

No selection

PU

Size

:

No selection

24.5cm