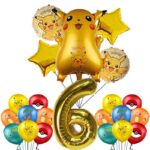 Pokémon birthday decorations for kids
Pokémon birthday decorations for kids
14,90 $ – 19,90 $
It\'s your child\'s birthday and you\'d like to make him or her happy?
Don\'t wait any longer, and discover our Pokémon birthday decorations for kids. These are balloons in several shapes, the main one with a number, the others with Pikachu.
Your little monster will be super-happy to be able to celebrate his birthday in the company of all his friends.
This product is perfect for kids who love Pokémon! It contains a wide variety of decorations, including balloons, streamers and confetti. All decorations are high quality and will make your birthday party a real success!
Additional information
Color

:

No selection

Multicolored

Matériau

:

No selection

Plastique/Latex