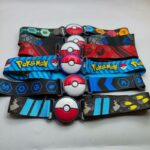 Pokémon Ball stretch belt for kids
Pokémon Ball stretch belt for kids
24,90 $
Introducing our amazing Pokémon Ball stretch belt for kids, the perfect way for Pokémon fans to show their love for their favorite characters.
Designed with bright colors and stretch material, it fits perfectly around your child\'s waist and is very comfortable to wear, the Pokéball-shaped buckle adds a fun and colorful touch to the belt, it\'s made of a soft and durable fabric that can withstand everyday wear and tear.
Whether your child is a die-hard Pokémon fan or just wants a cool, trendy accessory, this belt is the perfect choice.
Additional information
Matériau

:

No selection

Plastique