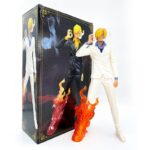 One Piece Sanji action figure
One Piece Sanji action figure
29,90 $
Is your child an undisputed fan of the One Piece manga and dreams of conquering the oceans? Then he\'s undoubtedly familiar with Sanji, the famous cook from the Straw Hat Crew.
He\'ll love this superb One Piece Sanji figurine, representative of his favorite universe, and will feel like one of Luffy\'s faithful nakamas!
Sanji is a member of the Straw Hat crew, a cook and an agile leg-wielder. Sanji is an important character in the story, very attached to his friends and would do anything for them. This figure is very faithful to the character, with his characteristic style of dress and posture. Face and hair details are well rendered. The figurine is made of PVC and measures approximately 14 cm in height.
Additional information
Sexe

:

No selection

Unisexe

Échelle

:

No selection

1/12

Certification

:

No selection

CE

Matériau

:

No selection

PVC