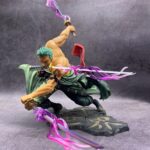 One Piece Roronoa Zoro action figure
One Piece Roronoa Zoro action figure
29,90 $
Your child loves the magical world of the famous manga that\'s everywhere… One Piece? Then give them this magnificent Roronoa Zoro figurine, just as realistic as in the series!
The main swordsman of the Straw Hat Crew, Zoro is so skilled in combat that you might even think he\'s the team captain!
This figure is part of the Portrait of Pirates range and measures approximately 10 cm in height.
The Roronoa Zoro figurine is a faithful representation of the One Piece manga and anime character. Made in PVC, it measures around 18 cm in height. The details are meticulous and the colors bright. This figurine will delight Zoro fans!
Additional information
Sexe

:

No selection

Unisexe

Dimensions

:

No selection

10cm

Certification

:

No selection

CE

Matériau

:

No selection

PVC