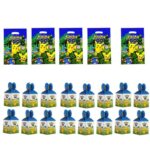 Birthday decorations with several Pokémon
Birthday decorations with several Pokémon
14,90 $
For your little boy\'s unforgettable birthday, we\'ve got these birthday decorations featuring several Pokémon.
These decorations are made with a Pokémon theme for all boys who are fans of Pokémon, a cartoon that jumps from generation to generation and evolves over time!
Multi-Pokémon birthday decorations are perfect for your children\'s birthday parties! They\'re colorful and fun, and kids will love the Pokémon characters. Decorations include balloons, streamers, confetti and more. Don\'t miss these birthday accessories for a unique party for your son!
Additional information
Couleur

:

No selection

Bleu

Matériau

:

No selection

Papier